Run DMC's Raising Hell was the first record I bought. This is arguably one of the most important records in hip hop, if not the most important record by one of the most important groups. Run-DMC hit their stride with this record after their first two albums, the self-titled Run-DMC and King of Rock.
What more can I say? Run and D's incredible minimalist production, big sound, and tremendous rhymes are traded back and forth in that signature sound they share. The production was creative from the first cut to the last, and the storytelling was great. Run-DMC was able to mix humor and seriousness into one album that was still seamless.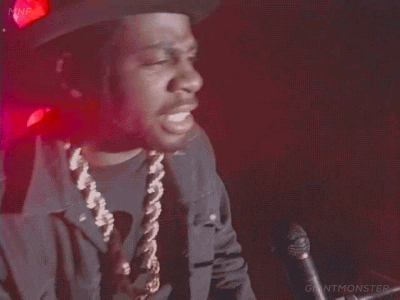 I will not spend too much time reviewing the popular cuts, but I will go through a few that stand out.
Peter Piper
Peter Piper is Jam Master Jay at his finest. Jay took the classic Bob James break, "Take me to the Mardi Gras," and just ripped it. This was not the first time it was used in hip-hop tracks, but they probably did it better than most.
Advertisements
My favorite MIDI keyboard (at the moment):
AKAI Professional MPK Mini MK3
My favorite MIDI keyboard (at the moment):
AKAI Professional MPK Mini MK3
I'm loving the AKAI MPK Mini MK3 for its compact design and the range of controls. It's one of my essential tools. The velocity-sensitive keys and MPC-style pads are great for making beats, while the thumbstick and knobs give me precise control.
Tricky
This was a fun song featuring the magicians Penn and Teller in the video. An interesting play on the Knack's My Sherona.
My ADIDAS
Say no more. The group also scored the first major commercial endorsement for hip-hop artists from an athletic company.
Walk This Way
This was probably the most commercially successful rock-rap mashup of its time and probably the most authentic sounding. I'm not going to spend too much time on this song. But, unless you have been living in a tomb for the last 30 years, you have heard this at some point. This was pre-Kid Rock and Limp Bizkit.
Perfection
RUN and DMC are trading great rhymes over a hard beat. The drummer on this track was a 16-year-old neighbor who just busted it on the drums. (Years later, Eazy and Dre would do Two Hard Muthafuckers on the Eazy E album with Yella on drums, which is reminiscent of this song.)
Hit it, Run
DMC shines on this track with Run's beatboxing. I don't think Run is in the same class as Buff Love or Doug E. Fresh, but he can hold his own.
Raising Hell
Kings from Queens come to Kings! Indeed. I was still living in Brooklyn when I first heard this on WBLS late one night at the tender young age of 10. My parents thought I was asleep, but little did they know it had just started. Ironically, Queens would be my future home about a year after I heard this song.
It was like a soundtrack for comic-book superheroes.
Run DMC's Raising Hell title cut obliterates every other track on this album, which is not easy to do. Rick Rubin, producer extraordinaire, very competently plays guitar on this track. The sound was so big in this song. I remember hearing it and just being floored. It was like a soundtrack for comic book superheroes. The lyrics had great imagery; "Fires from the depths of hell, you can smell the smoke!
You be Illin
This is a fun little song. I think Run said Prince Rasberry Beret inspired it. The sax was a nice touch on this tune. You often didn't hear hip-hop groups adding this type of instrumentation during this era.
You proceeded to eat it because you were in the mood, but you did not know it was a can of dog food.
Dumb Girl
I love the 808 kicks on this song and the hook, "Dumb," which was turned down in a few pitches. This was a creatively unique sound for the time. This is when hip-hop artists still took chances. Run DMC's Raising Hell was an album that knew how to do it right.
Son of Byford/Proud to be black
Son of Byford was the intro that served as an ode to DMC's family. Finally, the Run is back on the beatbox. This song is interesting, given the timing of the pro-black sentiment. This was just before Public Enemy came out with Bum Rush the Show, espousing Chuck D's fiery political messages dedicated to raising the national black consciousness.
Conclusion
So, what do you think? Let me know in the comments section below (I read and reply to every comment). If you found this article helpful, check out my full blog for more tips and tricks on home studios and music production. Thanks for reading, and keep making music.